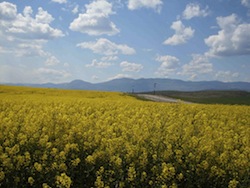 Some folks north of the border might call it the little yellow plant that could. But this article from the Toronto Globe and Mail says canola, one of the key feedstocks in Canada's biodiesel industry, has really taken off from its humble beginnings in the 1970s when the plant was developed to produce a non-acidic, edible cooking oil from the non-edible rapeseed plant to become Canada's most valuable farm export.
Exports of the small black canola seeds and the cooking oil and animal feed they yield have more than doubled in the past 10 years. And the group that represents growers and marketers of canola figures rising global demand will help it boost canola production by 40 per cent by 2025.
"The world is telling Canada's canola industry to keep it coming," said Terry Youzwa, a grain grower in Saskatchewan and chairman of the Canola Council of Canada, a group comprised of growers and the companies involved in the marketing and processing of the crop, including Cargill Ltd., Monsanto Canada and Richardson Oilseed Ltd.
Increasing the size of the canola crop will be no easy feat. The crop competes for field space with wheat, corn, soy and other grains that are rotated each season to let the soil recuperate. But Mr. Youzwa figures the larger crop can be achieved through better yields – squeezing out a lot more plants and seeds with just a small increase in acreage.
Canadian officials go on to say they are continuing to improve canola's resistance to pest and droughts to make sure the world will continue to get the oil.
About 43,000 producers in Canada grow canola.