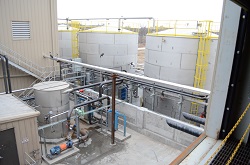 A Missouri biodiesel maker says it has opened the world's most advanced biodiesel plant. This news release from Blue Sun Energy says the 30-million-gallon-per-year plant in St. Joseph uses enzymatic biodiesel processing technology.
"We have fully commercialized the enzymatic process technology and the plant is operating at full commercial scale. This process gives Blue Sun a clear competitive advantage in the market, allowing us to bring the absolute highest quality fuel to market using this industry leading technology," said Leigh Freeman CEO. "This achievement again shows Blue Sun's ability to identify and commercialize the most relevant advanced technologies in fuel production."
The process at the St. Joe refinery produces very high quality biodiesel, which is even further improved by the state-of-the-art distillation system installed last year at the refinery.
"The process developed by Blue Sun for enzymatic transesterification improves the bottom line through lower costs and higher revenue," said Sean Lafferty, Vice President of Technology & New Business. "Blue Sun can use essentially any feedstock without limit to free-fatty-acid content. This reduces pre-treatment requirements and costs significantly. Blue Sun's feedstock advantage alone can yield a savings of 10 cents per pound of feedstock, or 75 to 80 cents lower cost per gallon of finished biodiesel."
Blue Sun uses Novozymes' Callera Trans L® enzyme and produces the high-grade biodiesel, as well as improving the quality of the glycerin produced, more than doubling the co-product's value.
"Commercial operations using the enzyme would not have been possible without the many discoveries and inventions of the skilled engineers at Blue Sun, and the support of our partner, Novozymes," said Bruce Baughman, Chief Operations Officer.