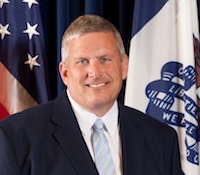 A Renewable Fuel Standard (RFS) road show is kicking off in Iowa on Tuesday, January 21, 2014 to highlight the importance of Iowa's renewable fuels industry. Iowa Secretary of Agriculture Bill Northey will be encouraging Iowans to comment on a proposal by the EPA that would significantly lower the levels of ethanol and biodiesel that are mandated to be blended in the country's fuel supply.
Northey will speak to a group of farmers in Cedar Falls, visit a gas station offering customers a variety of renewable fuels options in Waterloo and then tour a biodiesel plant in Farley.
In November, the EPA proposed lowering the 2014 renewable fuel standard, which would dramatically impact Iowa's ethanol and biodiesel industries. The EPA is accepting public comments on the proposal until Jan. 28. Comments can be submitted online at www.regulations.gov or via email at a-and-r-docket@epa.gov. All comments should reference Docket ID No. EPA-HQ-OAR-2013-0479.
On the evening of Jan. 21 Northey will speak to Maquoketa State Bank's annual dinner in Maquoketa. The details of Northey's visits follow here:
Tuesday, Jan. 21, 2014
Black Hawk County – 10:30 a.m., speak to farmer group, Pipac Center, 1521 Technology Parkway, Cedar Falls
Black Hawk County – 12:00 p.m., Visit Jim Lind Service Station, 230 E. Ridgeway Ave., Waterloo
Dubuque County – 2:30 p.m., tour Western Dubuque Biodiesel, 904 Jamesmeier Road, Farley
Jackson County – 5:30 p.m., speak to Maquoketa State Bank annual dinner, Centerstone Inn, 1910 Nairn Dr., Maquoketa
In addition, on Thursday, January 23, 2014 Iowa Governor Branstad along with several senior state officials are hosting a public hearing to allowing Midwesterners to testify about the RFS. The event begins at 8:30 am CST and is being held at the Hall of Laureates, 100 Locust Street in Des Moines, IA.