Gov. Terry Branstad and Lt. Gov. Kim Reynolds are leading a group of senior state officials from Iowa and the Midwest to organize and host a public hearing allowing citizens outside of Washington, D.C., the opportunity to testify about the importance of the Renewable
Fuel Standard (RFS). "Hearing the Heartland: Supporting the Renewable Fuel Standard," will be held at Hall of Laureates, 100 Locust Street in Des Moines, Iowa, on January, 23, 2014, with comments beginning at 8:30 am CST.
The Governor notes that the RFS has proven an important policy framework for empowering consumers with additional and lower-cost choices at the pump, diversifying our nation's energy portfolio, reducing harmful transportation emissions, supporting the growth of the Midwest economy, and reducing our dependence on overseas oil. Governor Branstad also announced this week he is running for a historic 6th term as Iowa's Governor. He is also behind the Protect the RFS campaign that was launched during an RFS rally held in Nevada, Iowa on November 22, 2013.
In December, Gov. Branstad, Lt. Gov. Reynolds, Iowa Secretary of Agriculture Bill Northey along with the entire Iowa congressional delegation sent a letter to President Obama, Environmental Protection Agency (EPA) Administrator Gina McCarthy, and U.S. Department of Agriculture (USDA) Secretary Tom Vilsack on December 20, 2013, encouraging Federal officials to host a public hearing in Iowa or the Midwest to give more citizens the opportunity to provide perspective and data on the EPA's proposal to reduce volume obligation levels for 2014 in the RFS. The White House, Administrator McCarthy and Secretary Vilsack each declined the invitation and the opportunity to host a hearing.
"Iowans, and Midwesterners, deserve the opportunity to make the case for their futures and I was disappointed to hear that the Federal Government has declined our invitation to host a hearing in the Midwest," said Governor Branstad. "We believe it is necessary to host this public hearing for Iowans and other Midwesterners to enable them to more easily provide comments on the EPA's proposal, which could cost nearly 45,000 jobs, have a negative ripple effect through the U.S. economy and would hinder consumer choice at the pump."
Branstad added, "It is important for Federal leaders to gain fresh perspective that is not clouded by the perpetual politics of Washington, DC. Big Oil's army of DC lobbyists has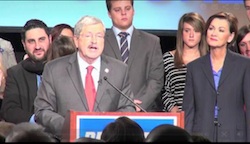 clouded the debate on the value of renewable fuels to our nation's energy, economic and national security. This hearing aims to clear the air and give citizens of the Heartland the opportunity to amplify their voice in this important Federal policy discussion."
In addition to this hearing, Iowa Secretary of Agriculture Bill Northey is heading to Northeast, Iowa on January 21, 2014 to listen to Iowans discuss the RFS and collect and encourage citizens to submit comments to the EPA. To date, more than 10,000 comments have been submitted to the EPA.
"Too often, agencies in Washington, D.C., make decisions that affect the livelihoods of people in the rest of the country without hearing directly from those involved," said Iowa Senator Chuck Grassley. The opposite should be true. The grass roots ought to be heard here and any time policy changes are under way that have implications on areas from local economies to national energy security. It's truly unfortunate that the Obama Administration has refused to come to Iowa to hear grass roots concerns about its misguided proposal. Governor Branstad is right to convene this hearing. It will balance the big-oil bias and fill the void left by the Administration in Washington, D.C."