Patriot Renewable Fuels is delivering the message of the benefits of American made products with their new LED sign on Interstate 80 that was installed on December 20, 2013. The biorefinery is located just off I-80 and drivers can see the facility as they drive by, but Gene Griffith, president of Patriot notes that most drivers have no idea that the plant was producing the fuel -ethanol- they were using in their car.
So the Patriot team came up with a solution. To install and LED billboard along I-80 near their biorefinery that gives drivers simple messages about the benefits of ethanol. When the construction of Patriots biodiesel facility is complete, they will incorporate messages about the benefits of biodiesel as well.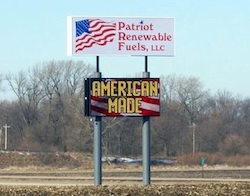 "Patriot is very visible to drivers on I-80 but the sign we had was not easily viewable, and we often received questions "what is that plant?", is it a power company?," explained Griffith. "In addition to the permanent sign at the top that identifies Patriot Renewable Fuels, LLC, the bottom sign is an LED message sign that we will use to highlight some of the important Patriot and Industry messages."
The one shown is in this photo says "American Made". Others will include "Producing Feed and Fuel," with photos of the DDGS pile and rail cars of ethanol.
"Visibility is good 24 hours a day, but it is impossible to miss at night. We've had a great reception to its installation," added Griffith.