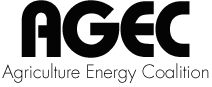 The $1.1 trillion U.S. budget deal passed by the House and awaiting action from the Senate has removed discretionary funding for Farm Bill energy programs, according to a group that considers ag-based energy issues. And this story from BioFuels Journal says the Agriculture Energy Coalition (AgEC) feels the 2014 Consolidated Appropriations agreement underscores the need for Congress to get busy on a 5-year farm bill.
The Omnibus provides $3.5 million in funds for the Rural Energy for America Program, but rescinds $40.7 million from the Biorefinery Assistance Program and another $8 million from the Bioenergy for Advanced Biofuels program.
Lloyd Ritter, co-director of the AgEC, said, "Today's Omnibus Appropriations bill will create uncertainty for renewable energy and energy efficiency leaders across the country who have been working with private lenders and USDA to access credit for biorefinery and other important energy projects.
"The Farm Bill currently in conference should provide stable policy and the necessary investments in energy programs to help these projects create jobs and economic opportunities.
"Thousands of hardworking American agriculture and renewable energy producers need Congress to adopt a new 5-year Farm Bill now more than ever."
The article goes on to point out how programs, such as the Biomass Crop Assistance Program, the Biorefinery Assistance Program, and the Renewable Energy for America Program (REAP), have supported the rural economy while producing more domestic, renewable energy.