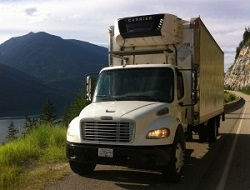 The veggies might have a nice, healthy green tone, but sometimes the fuel to deliver them… well, not so much. But this story from the Nelson Star in British Columbia says a Canadian organic grocery supply is working biodiesel into its delivery trucks to make those greens truly green.
Kootenay foodies and entrepreneurs Paul and Clare Kelly of Winlaw are helping shoppers at organic grocers 'green up' their produce purchases with their biofuel shipping company — Revolution Biodiesel.
"With much discussion around kitchen tables and in the media about the carbon impacts of food miles, we sometimes feel a little helpless," says Paul. "Traditionally these food miles equate with massive volumes of diesel fuel, used to move heavy fresh food from far away orchards to packing houses, distribution warehouses, then on to retailers and consumer markets."
Perishable foods like produce; dairy, eggs and meat require additional diesel fuel for the truck's refrigeration unit. According to Paul, a typical freight truck will use over 500 L of diesel fuel to bring a load from Cawston (Canada's organic fruit capital) to Calgary.
Making use of their contacts from a combined 25 years in Calgary's natural food sector, and fuel from their on-farm biodiesel plant, the Kellys invested in a refrigerated truck that they could run on 100 per cent post-consumer fryer oil derived biodiesel.
The Kellys are looking to expand, but that would also depend on the availability of the waste grease for the biodiesel feedstock. But in the meantime, they have enough of the green fuel on hand to run three truckloads of veggies between Calgary and British Columbia for the next year.