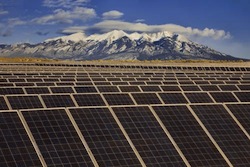 A flurry of activity in the last couple of months of last year looks like it has pushed U.S. utility-scale solar capacity into first place worldwide. This article from Ciol.com says several projects appear to have pushed the Americans past the Chinese, who had taken the lead during part of 2013.
Recent figures from CAISO, California's transmission grid operator, show major new capacity coming online between October and December from several of the world's largest solar power stations. These include three partly-complete First Solar projects: Desert Sunlight being built for GE and others, which now has 470 MW connected out of an eventual 550 MW capacity; Topaz Solar Farm for MidAmerican (237 of 550 MW); and Exelon's Antelope Valley (230 of 250 MW).
The latest figures also include several 100+MW projects now fully connected, including First Solar's 290 MW Agua Caliente, SunPower's 250 MW California Valley for NRG Energy, Sempra's 165 MW Mesquite I, Tenaska's 130 MW Imperial South and GE's 127 MW Arlington Valley.
Coupled with substantial new capacity around the country in mid-size projects between 4 and 92 MW, this raised total US capacity to over 5 GW; more than double the 2.2 GW existing at the start of 2013.
Experts say another 12 GW of solar capacity is still in development for the U.S., although China is known for adding a lot of capacity in a short time with little notice.