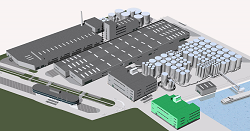 About $88.6 million is going into a Dutch biodiesel plant. This article from Biodiesel Magazine says Simadan Holding is putting the money into its subsidiary's Biodiesel Amsterdam's 45 million gallon a year refinery.
The new plant is part of the largest ecological industrial complex in Europe, according to Simadan Holding. The 12-acre complex now includes a biodiesel plant, a storage terminal, a 2-acre recycling plant, a biogas plant and tank cleaning. More than 99 percent of the incoming organic waste is converted into useful second-generation products, the company says. "Our biodiesel is of the highest quality and reduces CO2 emissions by more than 85 percent compared to fossil fuels," said Peter Bakker, owner and founder of Simadan.
The project will also include a 50,000 ton a year glycerin distillation operation that will turn out a pharmaceutical-grade product.