Calling people of all ages. I've finally found a truly entertaining and educational book about climate change and the environment. "How are you Mother Earth?" written by Gordon Hunter, a scientist, takes the reader on the journey with Katie, her boyfriend Mike and her father when they take Mother Earth to the doctor for a check-up.
Well, it turns out that Mother Earth can't fit in the door and she doesn't have the same structure as us humans so they work with Nurse Re Corder and a host of other scientists and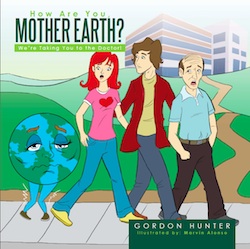 doctors to develop a check-up just for Mother Earth. While the team hunts down the experts, Mother Earth takes a rest on the lawn outside of the doctors office.
During her physical, they test her age and weight, pressure, respiration and air quailty, dermatology and temperature. Along the way not only are you learning about science in a fun way, but you are also learning about humans' relationship with Mother Earth.
The health report: Mother Earth is very sick.
The cure? "…a cure would be turning away from fossil fuels and turning to alternate sources of energy such as solar and wind."
The prescription. Each and every one of us.
How Are You Mother Earth? Is cleverly written, the science is easily understood and the illustrations nicely done. This is definitely a book to read to better understand climate change and the health of Mother Earth.
Listen to my interview with Gordon Hunter here: How Are You Mother Earth?
Win a free copy of How Are You Mother Earth? Send me an email or a tweet with the title "How Are You Mother Earth?" and you contact info. The winner will be announced in next week's DomesticFuel newsletter.