The University of California, Riverside is hosting a summit focused on solar energy in Inland Southern California on Thursday, February 6, 2014 at its Bourns College of Engineering Center for Environmental Research and Technology. "Solar Energy in Inland Southern California: The Future is Now," will take place from 7:30 am to 6 pm PST.
The event is designed for city leaders, planners, council members, businesses, utility companies and the public to learn about the latest technologies, public policy/regulations,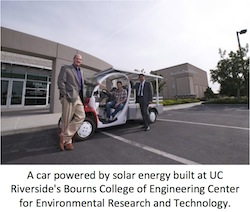 economics and environmental/sustainability issues relating to solar energy.
Topics covered will include: regional, state and federal legislative perspectives on solar energy; financing options for solar systems; and bringing together solar technology, policy, economics and the environment.
Among the scheduled speakers are: David Hochschild, commissioner, California Energy Commission; Roland Winston, director, UC Advanced Solar Technologies Institute and a professor, UC Merced; John White, executive director, Center for Energy Efficiency and Renewable Technologies; Ed Randolph, director, California Public Utilities Commission Energy Division; and Sarah Kurtz, photovoltaics reliability group manager, National Renewable Energy Laboratory.
The conference is co-sponsored by three UC Riverside entities: the Center for Sustainable Suburban Development, which is part of the School of Public Policy; the Center for Environmental Research and Technology; and the Southern California Research Initiative for Solar Energy. The latter two are part of the university's Bourns College of Engineering.