Ford Motor Company has announced its new C-MAX Solar Energi Concept, what they call a first-of-its-kind sun-powered vehicle with the potential to deliver the best of what a plug-in hybrid offers, without depending on the electric grid for fuel.
Instead of powering its battery from an electrical outlet, Ford C-MAX Solar Energi Concept harnesses the power of the sun by using a special concentrator that acts like a magnifying glass, directing intense rays to solar panels on the vehicle roof.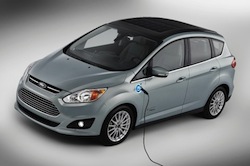 The result is a concept car that takes in essence a day's worth of sunlight to deliver the same performance as the conventional C-MAX Energi plug-in hybrid, which draws its power from the electric grid. Today, Ford C-MAX Energi is getting an EPA-estimated 108 MPGe (miles per gallon electric) city and 92 MPGe highway, for a combined 100 MPGe.
"Ford C-MAX Solar Energi Concept shines a new light on electric transportation and renewable energy," said Mike Tinskey, Ford global director of vehicle electrification and infrastructure. "As an innovation leader, we want to further the public dialog about the art of the possible in moving the world toward a cleaner future."
SunPower is providing solar cells for the roof of the concept car. Ford also partnered with Georgia Tech Institute of Technology to develop a way to amplify the sunlight in order to make a solar-powered hybrid feasible for daily use.
The collaborative research teams developed an off-vehicle solar concentrator that uses a special Fresnel lens to direct sunlight to the solar cells while boosting the impact of the sunlight by a factor of eight. Fresnel is a compact lens originally developed for use in lighthouses. Similar in concept to a magnifying glass, the patent-pending system tracks the sun as it moves from east to west, drawing enough power from the sun through the concentrator each day to equal a four-hour battery charge (8 kilowatts).
With a full charge, Ford C-MAX Solar Energi Concept is estimated to have the same total range as a conventional C-MAX Energi of up to 620 miles, including up to 21 electric-only miles. Additionally, the vehicle still has a charge port, and can be charged by connecting to a charging station via cord and plug so that drivers retain the option to power up via the grid, if desired.
After C-MAX Solar Energi Concept is shown at the 2014 International CES, Ford and Georgia Tech will begin testing the vehicle in numerous real-world scenarios. The outcome of those tests will help to determine if the concept is feasible as a production car.