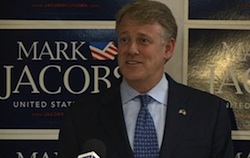 Iowa U.S. Senate candidate Mark Jacobs has submitted comments to the Environmental Protection Agency (EPA) on the proposed changes to the Renewable Fuel Standard (RFS). The EPA has proposed to reduce the amount of renewable fuels used in the U.S. transportation fuel supply for 2014. Jacobs wrote:
Dear President Obama and EPA Administrator McCarthy:
I am deeply concerned that the proposal to reduce the amount of renewable fuel we use under the Renewable Fuel Standard (RFS) will negatively impact jobs and economic growth in my home state of Iowa as well as other states.
In addition, the proposed changes will result in reduced consumer choices and higher prices at the pump across the country. Ethanol has demonstrated that it can compete head-to-head with petroleum products on an economic basis. Today, however, the oil industry exerts significant influence and control over the distribution of transportation fuels, and the RFS is essential to help level the playing field for alternative sources of energy.
We need reliable, affordable energy that is developed in an environmentally responsible way. Increased energy production in America can add thousands of new jobs and help keep energy prices low for all Americans. Low energy prices, in turn, help drive growth in other sectors of the economy. Renewable energy sources can continue to play an important role in this regard. The development of the renewable fuels industry has been one of the great success stories in America, and it has helped us reduce our dependence on foreign oil.
In Iowa alone, the renewable fuel industry supports 60,000 direct and indirect jobs. Most of these jobs are located in our rural communities. Reducing the amount of renewable fuels means replacing it with more oil. Studies have shown that this proposal would result in several billion dollars of additional cost for consumers. Moreover, the U.S. has a stated policy of enhancing our national security by reducing our dependence on the Middle East. Over the last seven years, our dependence on foreign oil has dropped from over 60% to just over 40%. The development of the renewable fuel industry has played a significant role in this improvement.
The RFS has been under attack recently. I would encourage our policymakers to look beyond the rhetoric and carefully consider the facts. Without the RFS, our nation's transportation fuels market will be left as a petroleum monopoly, with prices subject to the whims of geopolitical events. American families will be denied sensible fuel alternatives and our economy will be denied precious, good-paying jobs. We must protect the RFS. In the case of renewable fuel, what's good for Iowa is also good for American consumers.
Mr. President and Administrator McCarthy, I respectfully ask that you do what's right and stand up for everyday Americans and protect the current RFS.