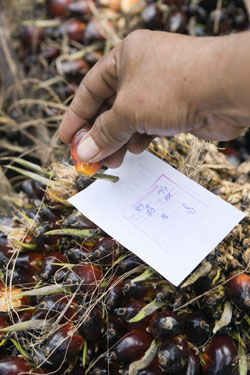 Finnish renewable diesel producer Neste Oil has certified 100 percent of the palm oil used as the feedstock in its green fuel production process as sustainably produced. This company news release says the company was able to achieve that goal two years earlier than expected.
"We are very satisfied that our systematic work to ensure the sustainability of palm oil usage is bearing fruit in this way," says Simo Honkanen, Neste OIl's Senior Vice President, Sustainability and HSSE. "Neste Oil has been an industry pioneer in this area and the sustainability criteria and traceability practices that it has developed and implemented have the potential to serve as models for other industries. This achievement will give us a good foundation for further developing the sustainability of our supply chain."
Certification verifies that the sustainability criteria set for biofuels are met throughout the supply chain. Neste Oil requires all its palm oil suppliers to be members of the RSPO (Roundtable on Sustainable Palm Oil). The palm oil used by Neste Oil is certified in accordance with the international certification systems approved under EU legislation, such as ISCC and RSPO-RED. These systems define what constitutes sustainable operations and the criteria used for determining sustainability, together with the documentation required for a sustainable supply chain. An independent third-party body is responsible for auditing Neste Oil's certified palm oil producers annually.
The achievement comes less than a month after Neste Oil became the world's first company to get the RSPO-RED Supply Chain certificate under the Roundtable on Sustainable Palm Oil's (RSPO) new certification system.