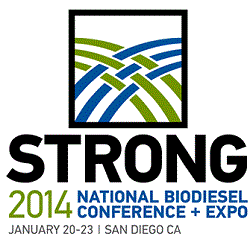 The National Biodiesel Conference & Expo is less than a month away, and the CEO of the National Biodiesel Board stresses that they need as many people involved in biodiesel as possible there, especially in light of the challenges facing the industry.
"Congress, for the third time in five years, through its inaction, is going to allow the biodiesel tax credit to expire," Joe Jobe says, adding that the industry is getting hit with a double whammy, as the Environmental Protection Agency is effectively proposing to cut the amount of biodiesel to be blended into the Nation's fuel supply. The end of that rulemaking process comes just a week after the conference, Jan. 20-23, 2014, so that makes it that much more important to get together at this crucial time. "The industry is really going to come together in San Diego and really work on unifying and attacking these threats together."
Joe says it's fitting with the biodiesel industry's back to the wall that they have Jim Craig, the goaltender for the 1980 U.S. Olympic hockey team as the keynote speaker on the first day of the conference. More than 30 years ago, America seemed to face insurmountable odds against the most dominating hockey team of the era, the Soviet Union. But just like the "Miracle on Ice" hockey team that overcame those odds, Joe believes the biodiesel industry can face down the power and might of the "largest, wealthiest, most powerful industry, the petroleum industry, in human history. And right now they're kind of getting their way with us, [but] we're about to show what we can do… come from behind and win!"
"The biodiesel industry has always been the underdog, and we've always punched above our weight class. And we're going to do it again and win this thing."
Plus, don't forget, San Diego is usually in the mid 70s and sunny that time of year… probably an improvement from what many biodiesel folks in the Midwest are experiencing now!
There's still time to register; just click here.
Listen to more of my conversation with Joe here: Joe Jobe, CEO NBB