Illinois State Representative Donald Moffitt knows agriculture. He grew up on a family farm, on which his son still farms (and Don occasionally helps). This has been a huge asset for him in his role because agriculture is the number one industry in both the 74th District as well as the state of Illinois.
Rep Moffitt was serving in this role seven years ago when Patriot Renewable Fuels broke ground on their ethanol plant (and in November they broke ground on a biodiesel plant) and I asked him what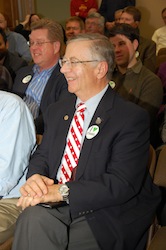 the feelings were like about ethanol during that time. He said there was a lot of excitement and there still is a lot of excitement.
"But finally, we'd been hearing about ethanol. We knew as farmers and producers we wanted to encourage the use of ethanol," said Rep. Moffitt. "We were trying to get acceptance of ethanol years ago and finally one comes to our area with the construction of Patriot Renewable Fuels. So it was genuine excitement."
The excitement went way beyond agriculture, explained Moffitt. First there were the construction jobs to build the plant and that brought a lot of jobs and economic activity to the area. Once the plant was running, there are the permanent jobs and then he noted there is the benefit to the community such as value added benefits to corn, for example. Producers are now able to get a higher price for their corn. The economic activity of Patriot brings more people to the restaurants, to the gas stations and other local businesses.
"So it's a win-win for our state, for our community, for agriculture and we need to have this type of diversity," said Rep. Moffitt.
He noted that biofuels help our entire nation by creating a more diversified fuel supply, and they reduce our dependence on foreign oil. "And I'm old enough to remember oil embargoes that occurred in the past, and long lines at gas stations when OPEC embargoed shipments to the U.S.," said Rep. Moffitt. "It put us in a real bind. With a domestic supply that is also a renewable supply it helps relieve that problem; it helps prevent it from happening. We'd be better off, safer as a nation, if our fuel was all domestic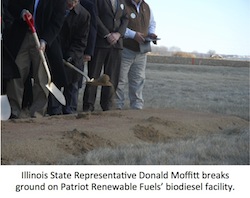 and renewable. So ethanol and biodiesel help make that happen. It's a trend in the right direction."
Moffitt continued, "The production of biofuels is actually a national security issue. Because we don't want to be dependent on foreign countries for our energy supply. Not all of them are friendly to the United States. But the American farmer is always going to be our friend."
"For the distractors from biofuels, if they want to depend on foreign oil for energy supplies they can do that," said Rep. Moffitt. "They're wrong and its not a safe concept to have. We must have as much of our energy, and I hope all of our energy eventually, produced right here."
Listen to my interview with IL State Rep Donald Moffitt here: IL State Rep Moffitt: Ethanol is Still Exciting
Check out the Patriot Renewable Fuels photo album.