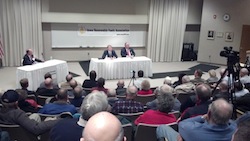 On the sixth anniversary of the signing of the expanded federal Renewable Fuel Standard (RFS2) into law, the Iowa Renewable Fuels Association (IRFA) hosted a renewable fuels forum for Iowa's leading Republican candidates seeking the GOP nomination to run for U.S. Senate in 2014. The seat is currently held by U.S. Senator Tom Harkin who is retiring after this term.
Forum Moderator and IRFA President Rick Schwarck began the event by stating, "The goal of the [RFS] is to reduce petroleum imports, enhance consumer fueling choices at the pump, boost the rural economy, and reduce the environmental impacts of petroleum-based fuels." Schwarck then asked both candidates, "If elected to the U.S. Senate, would you support maintaining the federal Renewable Fuel Standard (RFS) with no legislative changes?"
The legislation has spurred the growth of the biofuel industry and helped to reduce the use of foreign oil but is the industry in is jeopardy with the Environmental Protection Agency's current proposed renewable fuel volumes under the 2014 RFS. For the first time in six years, volumes are proposed to decrease rather than increase as the statute stipulates.
The forum was held at the Western Iowa Tech Community College Cherokee Campus Auditorium. State Senator Joni Ernst, Matt Whitaker and David Young were also invited to participate in the forum, but all three candidates declined the opportunity.