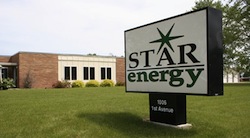 E15, a blend of 15 percent ethanol and 85 percent ethanol, has arrived in Fort Dodge, Iowa. STAR Energy is the 14th E15 retailer in the state, offering the blend to drivers of cars manufactured in 2001 or later. STAR Energy also offers E20, E30, E85 and biodiesel.
"Fort Dodge-area residents are now able to benefit from E15, the lowest-cost fuel for most vehicles on the road today," stated STAR Energy Manager of Retail Fuels Marketing and Business Development Jason Stauffer. "For motorists driving a 2001 or newer vehicle, E15 gives them another affordable renewable fuel option with the added benefit of higher octane."
"The addition of STAR Energy in Fort Dodge grows Iowa's list of registered E15 retailers to 14," noted Iowa Renewable Fuels Association Managing Director Lucy Norton. "While Big Oil claims a reduction in federal Renewable Fuel Standard (RFS) levels is needed due to the imaginary blend wall, retailers in Iowa continue to successfully crumble this fictitious barrier."
STAR Energy is located at 2 North 27th Street in Fort Dodge, Iowa.