Amyris, Inc. has announced that the city of São Paulo is now operating 400 city buses using Amyris Renewable Diesel, which is branded locally as Diesel de Cana. In other news, Amyris announced it has successfully produced its first fragrance oil for its partner Firmenich SA.
"From fuels to consumer care products, we continue to make progress on our commercialization of No Compromise renewable products that meet our customers' needs," said John Melo, President & CEO at Amyris. "We are not only building on our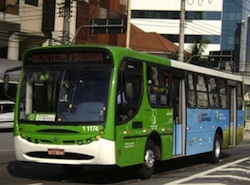 existing fuels market opportunities but also expanding our portfolio of renewable products, as we have shown with our successful production of a fragrance oil, the third molecule we have taken from lab to industrial scale following artemisinin and farnesene."
The announcement regarding the expanded use of Diesel de Cana took place with the São Paulo Public Transportation Authority (SPTrans) and its industry partners. The diesel blend is produced from locally-grown sugarcane using Amryis fermentation technology. In addition a trial will begin in 2014 to pilot the use of 100 percent Amyris Renewable Diesel in several city buses.
"We are pleased to increase our supply of Diesel de Cana in São Paulo, helping bring the city closer to its goal of 100% renewable fuels in public transport while reducing air pollution," said Adilson Liebsch, commercial director at Amyris Brasil. "Our drop-in renewable fuel has been used commercially at blends of 10-30% for two years and logged over 30 million kilometers to date. Working with Mercedes-Benz, MAN and Volvo on a 100% Diesel de Cana trial, we will build greater confidence in our fuel's quality and performance, paving the way to expand our commercial efforts in other metropolitan areas globally."
The city of São Paulo has more than 15,000 buses consuming about 450 million liters (118 million gallons) of diesel per year. Amyris's sugarcane-based diesel is helping the city meet its goal of reducing fossil fuel use in the public transit system. Under city law, São Paulo is working to reduce fossil diesel use by 10 percent every year through 2018.