A good friend once told Todd Sieben, Chairman Central Bank and retired state senator, that when you get ready to retire, don't retire from something, but retire to something. After 21 years as a state legislator, Sieben did just that and he "retired to" working on projects in his local community including helping to bring the idea of Patriot Renewable Fuels to reality.
Sieben is currently working with the Illinois General Assembly on passing legislation that would incentivize the use of E15 in Illinois. He explained that for many years there has been a sales tax incentive for E10 that enables consumers to purchase the biofuel at a lower cost. Now, says Sieben, they would like to see that tax incentive shifted to E15 and use some of the funds to help retailers build the infrastructure, such as blender pumps, needed to offer consumers E15.
In addition to this work, he is also working with Patriot to get their story out to consumers so they have a better understanding of the positive benefits of ethanol. Sieben noted that there are two stories. One is the local story focused on the economic benefits – the benefits they provide to the local producer. The second is the national story.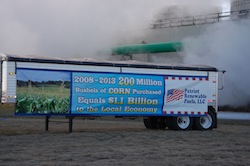 "There is a need to tell a national story to go up against the false claims that are made by Big Oil companies or the food industry that talks about the negative things they believe in an effort to hurt the industry," said Sieben. "So we've got to talk about the value of ethanol or our economy. The value of ethanol to our environment. The value of ethanol in improving our national security by reducing our dependence on foreign oil. That's the national picture – the big picture."
He said that Patriot is now getting the message out in social media (Twitter, Facebook, website, etc.) and encourages other ethanol plants and biofuel plants and companies to do the same.
When asked how biofuels affects every single person in the country, he answered the number one positive effect is clean air. He said the second benefit is bringing the price of fuel down at the pump.
Sieben stressed, "We need everyone to step up and listen to this message and stand up for our agricultural industry. To stand up for corn. To stand up for ethanol. We need people to speak up and speak out."
Listen to my interview with Todd Sieben here: IL State Sen. Todd Sieben 'Retired To' Working for Ethanol
Check out the Patriot Renewable Fuels photo album.