Vivint Solar is sending kids to science camp. The solar company announced that it has matched the maximum fundraising efforts of $15,000 of the Windsor, California community to enable every sixth grader the opportunity to attend a three-day science camp in February.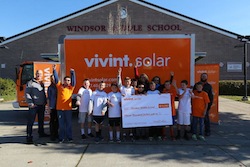 Due to budget cutbacks, the students were at risk of not being able to attend camp this next year. The Alliance Redwoods science camp, in Occidental, Calif., costs about $165 per student, and the community had only raised about half of the funds needed before Vivint Solar stepped in to pay the difference.
"We are proud to invest in the outdoor environmental education that science camp provides to young students," said Greg Butterfield, CEO of Vivint Solar. "The long-term value of giving to the Windsor Middle School community during the holiday season is priceless to our team."
The company found out about the shortfall from first-grade teacher Kelli Wong, a teacher at Healdsburg Elementary and Vivint Solar customer.
"I know that Vivint Solar is concerned about the environment, with their focus on the sun as a powerful and renewable resource," said Wong, a parent of a sixth grader at Windsor Middle School. "I, and the entire community, was so excited when Vivint Solar responded so quickly to our need and invested in the science camp experience. The sixth-graders are beyond ecstatic about being able to go to camp together for a once-in-a-lifetime learning opportunity that is in line with the school's emphasis on environmental stewardship."
In addition to funding, Vivint Solar representatives will visit the camp when the students arrive to hand out t-shirts, water bottles and other necessities to ensure the campers are ready to learn and have fun.