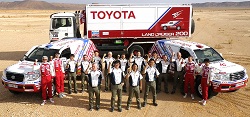 Toyota will race a biodiesel-powered SUV in the 2014 Dakar Rally. This story in the Japan Times says Toyota Auto Body Co. team will run a Toyota Land Cruiser 200 in the roughly 5,500-km off-road race through Argentina, Bolivia and Chile next month.
The Land Cruiser will run on biodiesel made from used cooking oil, emitting 60 percent less carbon dioxide than regular diesel.
"I want to compete on the world stage in a Japanese car and with Japanese technology," driver Jun Mitsuhashi said Wednesday at an event in Toyota, Aichi Prefecture, to announce the team's entry in the race.
The annual rally, started in 1978, is open to amateurs with an off-road racing license as well as professional teams. It formerly ran from Paris to Dakar, Senegal, but has been held in South America since 2009.