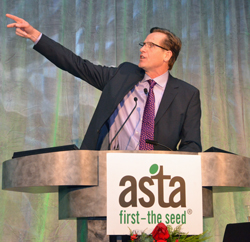 AgResource Company president Dan Basse looked at the year in review for grain markets and gave his outlook for the future at the American Seed Trade Association (ASTA) CSS 2013 and Seed Expo last week in Chicago. That included a pretty sobering outlook for corn and ethanol.
First off, Basse said he expects North America to be "energy self-sufficient by 2020" but that is largely due to fracking to reach new deposits of crude oil and natural gas rather than biofuels. "Ethanol, which was deemed to be the savior from Mideast oil, is no longer going to have that spot at the table," he said, adding that the industry has "reached its zenith."
Thanks to flat-lining ethanol demand, Basse believes the good times may have come to an end for corn. "A year ago we had corn prices above $7 with flirtations to eight," he said. "We're now looking at Chicago markets with corn prices near four. We think the best we can do at least for the next 6-9 months is maybe getting back to something like four and a half." Basse points out that the United States only needs to produce a corn crop of 13 billion bushels to meet demand. "That's the big concern for the US farmer down the road," he said.
Asked about the EPA proposal to lower the 2014 volume obligations for ethanol under the RFS, Basse said he believes the plan has a 70% chance of being approved. "If we don't raise blend rates and get Big Oil and get Detroit behind us, there's really no growth in biofuels," he said. "I want everybody in agriculture to understand that the political wills are not there as they were a few years ago and unfortunately now with shale gas and the new blessings of a different kind of energy, we're just talking to ourselves in terms of the marketing for biofuels going forward."
Listen to my interview for the condensed version and his 30 minute presentation for more details:
Interview with Dan Basse, AgResource ASTA CSS presentation by Dan Basse, AgResource