According to a recent Today in Energy published by the U.S. Energy Information Administration (EIA), expectations of a record corn harvest in 2013 have helped lower corn prices and improve ethanol production margins. This has also increased ethanol production and supply.
It was just last year that the 2012 corn harvest faced some of the most severe and far-reaching drought since the 1950s. Final productions for the year were 10.8 billion bushel. This fall however, brought a 30 percent increase over 2012, even those much of the U.S. still experienced drought. Many key growing areas, despite the dry weather, had ample rains at just the right time.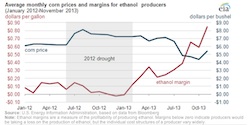 As the EIA explains the ethanol margin is the difference between the market price of ethanol and its cost of production adjusted by the value of co-products. It is also a measure of the profitability of producing ethanol. Between October 2012 and January 2013, the ethanol margin for producers was close to zero. The recent reduction in corn prices had a major impact on the profitability of ethanol production, because purchased corn is by far the largest cost incurred by ethanol producers. On average, one bushel of corn can be used to produce 2.8 gallons of ethanol.
Between January and November 2013, corn prices fell from about $7.50 per bushel to below $4.50 per bushel. A $3 reduction in the price of a bushel of corn translates into a roughly $1.08 reduction in the cost of ethanol production. While ethanol prices have also declined, ethanol producer margins have risen above $0.50 per gallon in recent months.
As a result, reports EIA, improved margins have incentivized greater levels of ethanol production, with output recovering to pre-drought levels. At the same time, lower prices have made ethanol more economically attractive for refinery blending, and output of ethanol-blended gasoline has risen. Net use of ethanol by refiners and blenders reached an all-time high of 884,000 barrels per day in August 2013.