The U.S. Department of Energy (DOE) has announced $150 million in clean energy tax credits to build U.S. capabilities in clean energy manufacturing. The credits will go towards investments in domestic manufacturing equipment by 12 businesses. Through the Advanced Energy Manufacturing Tax Credit program (48C Program), DOE says these awards will help create thousands of jobs across the country and increase U.S. competitiveness in the global clean energy market.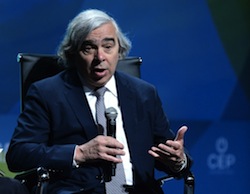 U.S. Secretary of Energy Ernest Moniz announced the 48C Program awards during the Energy Department's American Energy and Manufacturing Competitiveness Summit, jointly sponsored by the Council on Competitiveness. As part of the Department's broader Clean Energy Manufacturing Initiative, this summit brings together industry, government, academia and the Department's national laboratories to address national challenges in manufacturing and energy.
"Cost-effective, efficient manufacturing plays a critical role in continuing U.S. leadership in clean energy innovation, and the tax credits announced today will help reduce carbon pollution from our vehicles and buildings; create new jobs and supply more clean energy projects in the United States and abroad with equipment made in America," said Energy Secretary Ernest Moniz.
The Departments of Energy and the Treasury worked in partnership to develop, launch, and award the funds for this program. The Advanced Energy Manufacturing Tax Credit authorized Treasury to provide developers with an investment tax credit of 30 percent for the manufacture of particular types of energy equipment. Funded at $2.3 billion, the tax credit was made available to 183 domestic clean energy manufacturing facilities during Phase I of the program. Today's awards, or Phase II, were launched to utilize $150 million in tax credits that were not used by the previous awardees and support projects that must be placed in service by 2017.
Today's awards include domestic manufacturing of a wide range of renewable energy and energy efficiency products – from hydropower and wind energy to smart grid technologies to fuel efficient vehicles – and will support thousands of new manufacturing jobs in nine states and dozens of supply chains throughout the United States.