Greenbelt Resources Corporation has been selected by Australia-based Standard Ethanol Pty. Ltd to design and deliver an end-to-end commercial-scale advanced biofuel system for converting wheat feedstock to ethanol and organic fertilizer.
The module is designed to enable beverage producers and agri-businesses to locally recycle organic wastes into usable products. The customized modular system for Standard Ethanol will include proprietary distillation and dehydration modules and a plant-wide implementation of automated process controls. This commercially-viable system, designed to produce fertilizer and 0.5 million gallons per year (MMGY) fuel-grade ethanol, is scheduled for delivery in 2014.
"This system design will prove that converting waste to bioenergy is a profitable endeavor for our industry and the customers we serve," said Darren Eng, CEO of Greenbelt Resources Corporation. "The management team leading the effort at Standard Ethanol has a strong track record for executing on visionary business innovations and their contract with us is an important validation of our technology and expertise."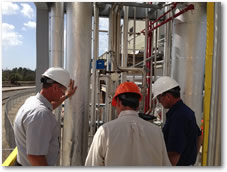 Standard Ethanol conducted a worldwide search over a four year period that included visits to the Greenbelt Paso Plant in Paso Robles, California, and to the Stan Mayfield Biofuel Center at the University of Florida, where a distillation module purchased by the university is currently in operation. Standard Ethanol said they selected Greenbelt Resources as the best technology partner based on verifiable experience, high-quality workmanship and a reputation for delivering performance outcomes which exceed expectations. The system will recycle wheat and the company plans to use the ethanol to fuel its own irrigation pumps and vehicles or sell it within the local community.
"After an international search, choosing Greenbelt Resources as the partner for developing our bioenergy facility came easily due to their impressive technology and versatile business model," said Larry Walsh, Director, Standard Ethanol Pty Ltd. "By adding this system we will gain added value from lower grades of wheat while we also begin to achieve a measure of local energy independence."
The directors of Standard Ethanol were recently involved in completing another large venture in Australia with the construction of a fully operational cotton gin. Projected cost to operate the system from Greenbelt Resources is estimated to be below one dollar per gallon of biofuel produced.