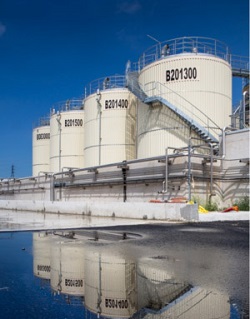 An Austrian company is bringing a multi-feedstock biodiesel plant in France into operation. BDI – BioEnergy International AG announced the $22.5 million project uses animal fats and used cooking oil as its feedstock.
The commission covered the entire BioDiesel process, including installation of the plant. The project was completed on schedule and as budgeted within eleven months, when it was handed over to the satisfied customer. The biggest Multi-Feedstock BioDiesel plant in France does not process the predominant raw material in France (rapeseed oil); instead of this, it produces high-quality BioDiesel solely from waste materials and animal fats.
The French customer ESTENER can benefit from this plant in an additional way too, because BioDiesel manufactured from waste materials in France counts double towards the achievement of the national renewable energy targets.
"We are particularly proud that our technology was chosen for the construction of the first Multi-Feedstock BioDiesel plant in France and that we have succeeded in satisfying our customer by implementing the project successfully", says Dr. Edgar Ahn (CSO).
BDI – BioEnergy International AG builds customized biodiesel plants using vegetable oils, used cooking oils and animal fats.