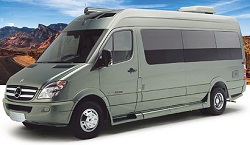 While the weather outside might be frightful, it won't be too much longer until thoughts will be turning to getting out in the great outdoors, and a company called Roadtrek has a way you can do it using biodiesel and solar power. This article from the Gas2 blog says Roadtrek has unveiled the new E-trek, a B+ class motorhome that also uses recycled materials in its construction.
Built on Mercedes' Sprinter van platform, Roadtrek's eco-friendly E-Trek is powered by a 3.0 liter Mercedes diesel engine that's 100% bio-diesel capable. The diesel is used as the primary power plant to drive the RV, and is also capable of feeding the E-Trek's electrical system and batteries. When parked, the diesel generates 3.5 KW of power that gets bumped up to 5.5 KW while it's on the move. Still, that's not the most visible "green" feature on the E-Trek- that award goes to the roof-mounted, 245 watt solar panel array that continuously charges a bank of 8 AGM batteries and a 5000 watt power inverter (you'll need that to plug standard 110/220 appliances into the outlets).
Roadtrek calls the E-Trek "the most eco-friendly motor home in the universe". It's not just an empty claim, though- they back that up with the batteries, solar panels, biodiesel engine, and even the composite body of the RV, itself, which uses a recycled cotton and denim insulation to help regulate temperature and a recycled, paper-based material in the counters and cabinets. Roadtrek is helping cut back carbon emissions and push back against harmful fracking operations as well, by totally eliminating propane and natural gas (full-timer RV staples) from the E-Trek's operations.
It doesn't come cheap, with a price tag of around $130,000. But the company does have a link for rentals on its website, so maybe it would be worth a spin around the block this summer.