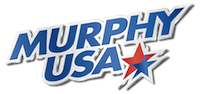 Murphy USA has opened the first E15 (15 percent ethanol, 85 percent gasoline) station in Arkansas, located at 2720 N. West Avenue in El Dorado. The Arkansas station is also the second Murphy USA location to offer E85 (85 percent ethanol, 15 percent gasoline). E15 is approved for vehicles 2001 and newer, while both E15 and E85 can be used in flex fuel vehicles. Murphy USA operates 1,179 stores in 23 states throughout the country, with additional E15 and E85 locations being planned in the Midwest.
"It is very encouraging to see a major retailer like Murphy USA understand the value in offering ethanol-blended fuels like E15 and E85, and we are confident they will have a positive experience," stated Robert White, director of market development for the Renewable Fuels Association (RFA). "Retailers across the country are always looking for new opportunities to increase volumes and margins, while also attracting new consumers, and E15 and E85 are the perfect fit."
The very first E15 station opened over a year ago in Lawrence, Kan. With the addition of the Arkansas station, there are now more than 60 stations in 12 states registered to offer the higher level fuel blend. E15 is the most tested fuel additive in the history of the Environmental Protection Agency and has been on the market for more than 16 months and driven over 45 million miles with no known cases of engine damage. Additionally, E85 has been available since 1995. There are now approximately 3,216 stations that sell E85 and more than 15.5 million flex-fuel vehicles on the roads.
Listen to the interview with Robert White about Murphy Oil's E15 rollout strategy: Murphy USA Embraces E15