The U.S. Department of Energy (DOE) has announced over $13 million for five projects that they say will strengthen domestic solar manufacturing and speed commercialization of photovoltaic and concentrating solar power (CSP) technologies. The awards were given under the SunShot Initiative, a program aimed at creating a competitive solar industry in the U.S.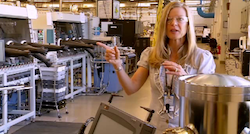 "The strong, continued growth in the U.S. solar industry over the past few years is giving more and more Americans access to affordable clean energy," said Energy Secretary Ernest Moniz. "We have a tremendous opportunity for American manufacturing to lead the global clean energy market and help pave the way to a cleaner, more sustainable energy future."
According to a new U.S. solar industry report, the U.S. solar market continues to grow – reaching record-breaking levels. In Q3 2013, the United States installed 930 megawatts of photovoltaic, up 20 percent over Q2 2013 and representing the second largest quarter in solar installations in U.S. history. Cumulatively, solar capacity has already surpassed 10 gigawatts and by the end of the year more than 400,000 solar projects will be operating across the country.
Matched by over $14 million in private cost share, the DOE's investment will help companies in California, Colorado, Georgia, Pennsylvania and Oregon develop cost-effective manufacturing processes for photovoltaic and CSP technologies. For example, Colorado-based Abengoa Solar will develop new methods to produce concentrating solar power trough systems, helping to lower overall production costs and support easy and quick on-site assembly. PPG Industries, headquartered in Pennsylvania, will lead a project to cut solar module manufacturing costs in half, while Georgia-based Suniva will develop a low-cost highly efficient silicon photovoltaic cell.
Broadly, the DOE investment announced today will help drive affordable, efficient solar power in the United States and help industry partners meet the SunShot Initiative's goal to make solar energy fully cost-competitive with traditional energy sources by the end of the decade. These awards also support the Department's broader Clean Energy Manufacturing Initiative to increase the efficiency of the U.S. manufacturing sector and ensure that clean energy technologies continue to be made in America.