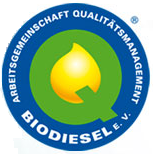 If you're a biodiesel supporter caught in winter's icy grip (oh, let's say some Arctic destination such as Chicago), there's some good news. Biodiesel Magazine reports the German biodiesel quality association, AGQM, and a maker of parking heater systems (devices that warm your vehicle's engine before you try to start it) have tested biodiesel in the heaters for long-term oxidation stability.
"The results serve as basis for the continuing development of parking heaters fit for the operation with biodiesel," AGQM stated. "Fuels intended for the operation of parting heaters must be of high quality which must then also be guaranteed for the post-summer time when frost sets in again."
The biodiesel was stored under ideal, as well as real, storage conditions for nine months, blended with four conventional oxidation stabilizers in two concentrations each.
According to AGQM, sampling was carried out on a monthly basis and critical parameters such as oxidation stability, acid and peroxide numbers, and water content were determined. The results of the analyses show that additives significantly improve the fuel's properties while the influence of the storage conditions is rather small.
AGQM plans to do more testing of biodiesel over the issue of deposits formed during evaporation.