Concord Blue USA, Inc. and LanzaTech have entered into an agreement to integrate their individually proven technologies to demonstrate the production of fuels and chemicals from waste materials.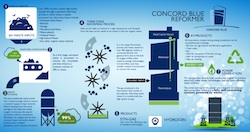 LanzaTech will install a Concord Blue Reformer at its Freedom Pines facility in Soperton, Georgia to convert waste biomass from regional forestry operations into syngas. The syngas will be converted by LanzaTech's gas fermentation process into a range of biofuels and chemicals. The company says the integration and testing at Freedom Pines will serve as an important step towards commercialization of the integrated technologies for multiple projects that both companies have under contract and in development.
"As the U.S. continues to diversify its energy mix and produce more domestic energy, low carbon fuels derived from waste woody biomass and municipal solid waste will play an increasingly important role," said Dr. Jennifer Holmgren, CEO of LanzaTech. "Our partnership with Concord Blue will enable us to extend our technology to these important resources."
Concord Blue says it has developed a closed-loop, commercially proven, non-incineration process that recycles nearly any form of waste, including landfill waste and sewage sludge, into energy at virtually any scale. By working closely with leading businesses, governments and communities around the globe, Concord Blue creates tailored solutions that safely and effectively dispose of waste streams while producing clean energy through advanced waste conversion.
"This partnership and demonstration facility lays the foundation for the expeditious development of large scale projects we have been awarded, like the Four Forests Restoration Initiative (4FRI)," said Charlie Thannhaeuser, chairman and chief executive officer of Concord Blue. "This represents a critical step towards achieving our company's objective to produce drop-in fuels from waste resources and bolster foreign oil independence by producing sustainable non fossil-based fuels."