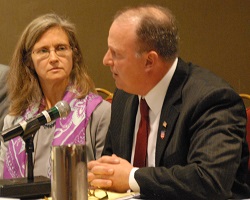 Nearly 30 years ago this Christmas time, the world saw one of the greatest human sufferings ever unfold before its eyes, as a million people starved to death in Ethiopia. In a particularly poignant moment during yesterday's Environmental Protection Agency (EPA) Renewable Fuel Standard (RFS) hearing, Rick Schwarck, the president and CEO of Absolute Energy, an ethanol producer on the Iowa-Minnesota border, reminded the audience why that tragedy happened.
"It's hard to talk about because it is so perverted. It was caused by low ag prices."
Rick went on to point out that Ethiopia's economy has dramatically rebounded, especially in the last few years, as commodity prices worldwide have risen and raised the fortunes of the 80 percent of the population in Ethiopia that relies on a rural, ag-based economy. He added this is being repeated all over the world, throwing cold water on much of the food-versus-fuel argument.
"Google any ag country, and take a look at the growth curves in their economies; it's been staggering," Rick said.
This is a pretty busy time of year for Rick, as he is president of the Iowa Renewable Fuels Association (IRFA) and a member of the national Renewable Fuel Association (RFA). Plus, his family has a choose-and-cut Christmas tree farm back home, so he felt pretty lucky to be able to make the trip. But he also knows how important it is for the RFS to be enforced, in his words, "just as it was written and just as it was intended."
Listen to Rick's testimony here: Rick Schwarck, President and CEO of Absolute Energy comments to EPA hearing