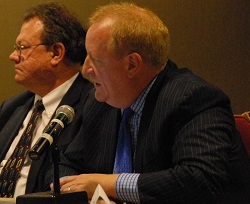 One of the country's oldest ethanol producers says it could generate a lot of economic activity for the rural communities where it has had to idle some plants, if the Renewable Fuel Standard (RFS) wasn't being tinkered with. Speaking at yesterday's Environmental Protection Agency (EPA) hearing on the agency's proposed changes to the RFS, Mark Beemer, President of Aventine Renewable Energy, said the potential money that could come into just one rural community is staggering.
He said if they were able to re-open their two Aurora, Nebraska ethanol facilities, they would be adding $5 million of payroll to the local community (of 4,500 residents) with 65-70 jobs, paying for $5 million worth of millwright activities to repair and maintain these two ethanol facilities, plus another $85 million for other spare parts and supplies, and the biggest purchase of all – nearly $300 million in local corn purchases, for a total benefit to the local community of about $400 million. "That's why ethanol has been so successful, because of the impacts in rural America."
Mark also expressed frustration over possible wavering by the EPA over the Renewable Identification Numbers (RINs) issue and feared that if the agency doesn't make the obligated parties follow through, those obligated know they'll have found a way to end-run the law.
"Congress was fully informed of the blend-wall issue with RFS2 when it was established, and rising RIN values would be the stick, not the carrot, imbedded in the legislation that would incentivize the distribution of E85 and E15," he said.
Mark said American agriculture has come through on its end of the RFS deal; now it's time for the government to do its part.
"I ask the EPA to reconsider your changes to the mandate and restore the RFS2 to the original Congressionally mandated target levels."
Listen to all of Mark's testimony here: Mark Beemer, President of Aventine Renewable Energy comments to EPA hearing