PPL Holtwood has announced completion of a new, 125-megawatt powerhouse at its Holtwood hydroelectric facility along the Susquehanna River in south-central Pennsylvania. The powerhouse is part of a $440 million expansion project to boost the plant's generating capacity and improve fish passage over the century-old dam. The integrated improvements to the fish lifts and water flows are expected to better attract fish into the lifts and ease their migration along the Susquehanna River and its tributaries.
The new powerhouse sits adjacent to the century-old powerhouse and more than doubles the plant's generating capacity from about 108 megawatts to more than 230 megawatts. The additional capacity is enough to power about 100,000 homes.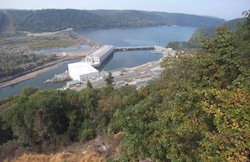 "This project, one of the largest expansions of its kind in the U.S., represents a major investment in clean, reliable, renewable energy," said Victor Lopiano, senior vice president of Fossil & Hydro Generation for PPL. "I thank everyone who was involved in design and construction of the new powerhouse. This project highlights the potential to upgrade existing hydroelectric facilities and expand capacity without the need to build new dams. The new facility's two 62.5-megawatt turbines are capable of generating more electricity than the 12 existing turbines, combined."
Lopiano said the hydroelectric expansion further strengthens the diversity of PPL's competitive generation fleet within the mid-Atlantic. The fleet includes hydroelectric power, nuclear power, natural gas and coal-fired power plants, along with other forms of renewable energy.