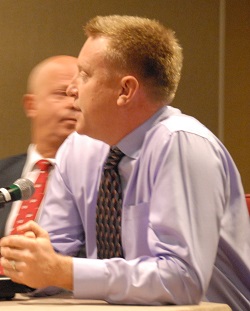 A change in the Renewable Fuels Standard (RFS) will have dramatic impacts for the small businesses that have cropped up in rural America. That was the message Patriot Renewable Fuels' Judd Hulting made to the Environmental Protection Agency's hearing on its proposal to reduce the amount of ethanol and biodiesel to be mixed into gasoline.
"We believe what is being proposed is a step backwards and really not what Congress envisioned back in 2005 and 2007," he told the panel in Arlington, Va., today. He says small, rural companies, such as his, have been on a positive roll the last few years, thanks to the market the RFS has helped nurture. Judd also alluded to the fact that changing the RFS also puts too much uncertainty into investors' minds and keeps them from putting more into the rural communities where these biofuels refineries have thrived. "What our investors envisioned was a long-term program."
Judd pointed out that his plant is hiring more workers, as Patriot Renewable Fuels adds a refinery turning the corn oil from the plant's ethanol operation into biodiesel. Plus, he said the industry is not getting enough credit for producing several products from that same bushel of corn.
"Over 5 years, we've produced half a billion gallons of ethanol; every day we produced a 1,000 tons of feed," pointing out that his own livestock-producing family is benefiting from these biofuels co-products.
Listen to all of Judd's testimony here: Judd Hulting, Patriot Renewable Fuels comments to EPA hearing