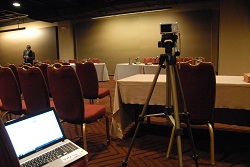 We are live from the Environmental Protection Agency (EPA) hearing on the Renewable Fuel Standard in Arlington, Va., just across the Potomac River from the Nation's capital!
In less than an hour, we'll start hearing from advocates and friends of the biofuels industry, in particular, our friends from the Renewable Fuels Association (RFA), who have come from across the country to explain the economic and environmental fallout from the EPA's draft proposal to lower the amount of ethanol and biodiesel to be mixed into the country's fuel supply. They'll also be countering Big Oil's arguments against the RFS, so it should be a lively hearing with dozens of folks from both sides of the issue taking part.
We seem to have a good Internet connection now, so I'll try to update you as the day's events unfold. Check back often here at energy.agwired.com!