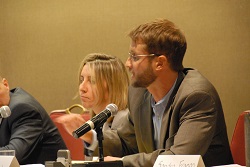 The executive director of the Renewable Fuel Association's (RFA) Advanced Ethanol Council (AEC) says what the government is proposing when it comes to the amount of ethanol and biodiesel to be blended into fuels is "off track." Speaking today at the Environmental Protection Agency's (EPA) hearing on the Renewable Fuel Standard (RFS), in Arlington, Va., just across the river from the Nation's capital, Brooke Coleman said the proposed changes to the RFS is causing some real problems.
"The new proposal is off track, and we've recoiled far too much," he told the roomfull of biofuels advocates and foes. Brooke pointed out that the EPA's E85 data is "woefully pessimistic" and needs to be updated.
The heart of the issue is the problems the proposal will cause with Renewable Identification Numbers (RINs). "For our investors to believe in this program and want to enter into this marketplace, they have to believe in RINs. That's the game-changer," going on to explain that the RIN program forces the Exxons of the world to buy RINs and forces non-compliant entities to play by the same rules. "It puts the Cumberland Farms and Gulfs of this world on equal footing with Exxon, and they are actually rewarded for complying with the rule."
He concluded saying the biggest issue with the proposal is it depressurizes the RIN program to the point that investors don't have confidence they will be able to drive change.
"So we have got to move those numbers up significantly, not unreasonably, to put the pressure back in the program, or the advanced biofuels industry is going to have a very, very, very difficult time surviving."
Hear Brooke's full testimony here: Advanced Ethanol Council Executive Director Brooke Coleman comments to EPA hearing