During the 18th Congress of Chinese Communist Party meeting, a call was made to create a "Biological Civilization" strategy that would encompass a plan for more use of green energy including offshore wind. On June 4-6, 2014 Offshore Wind China 2014, Wind Farm O&A China 2014 and Distributed Generation China 2014 are simultaneously taking place at the Shanghai New International Expo Center and Shangri-La's Kerry Hotel Pudong.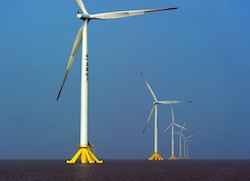 The organizers of the June events include Chinese Renewable Energy Industries Association, Chinese Renewable Energy Industries Committee, China National Renewable Energy Centre and Shanghai International Exhibition Co., Ltd. The groups have announced they will focus on the seven topics for the conferences in an effort to move the offshore wind industry and green energy industries forward.
1. Experience Wind Power Industry's Turn-around through Release of Latest Progress on Offshore Wind Projects. Offshore wind power developers along with planning and design organizations will be invited to deliver speeches on progress of offshore wind power projects.
2. Catch New Industry Trends by Bringing together Leading Wind Turbine Manufacturers. Key offshore wind turbines manufacturers, including Vestas / Mitsubishi, Goldwind, Gamesa, United Power, Sinovel, Shanghai Electrics / Siemens and Ming Yang will gather to present the advanced offshore wind technologies.
3. Capture Future Market Opportunities in Sector of Wind Farm Operation and Maintenance. The event features Wind Farm O&M Market to explore life-cycle management and after-sales services of onshore and offshore wind farms.
4. Provide Full-range Solutions with Focus on Offshore Installation and Construction. With a focus on offshore installations and construction, leading offshore installation companies including CCCC Third, ZPMC, Jiangsu Longyuan Zhenhua, CCCC Fourth will gather at this event to showcase installation equipments and share practical experiences.
5. Join Hands with Leading Wind Power Nations to Share in Advanced Experience. Attendees will meet with associations and delegations from developed countries including U.K., Netherlands, Denmark, Germany and U.S. to have exchanges with overseas firms.
6. Improve Trade Mechanism by Expanding On-site Communications and Negotiations. The event will further enhance the trade mechanism to hold "On-Site Match-making Meetings between Turbine Manufacturers and Components Suppliers".
7. Witness Offshore Mega Project by Visiting Offshore Wind Farm under Construction. Attendees will have opportunity to visit East Sea Bridge Offshore Wind Farm (Phase II) during its construction stage, and the China (Shanghai) Pilot Free Trade Zone, the first of its kind in China.