The Environmental Protection Agency (EPA) has officially published the proposed 2014 renewable fuel standard in the Federal Register that starts a 60-day public comment period that runs until January 28, 2014. EPA's proposal significantly lowers the levels of ethanol and biodiesel that must be blended in the nation's fuel supply.
"It is unfortunate that the Obama administration has caved in to Big Oil rather than stand up for rural America and the environment," said Iowa Secretary of Agriculture Bill Northey who participated in a Protect the RFS rally on November 22, 2013. "The renewable fuels standard needs to be protected as it has helped hold down prices at the pump, created thousands of jobs in rural Iowa, and benefited the environment. The President should be focused on jobs and the economy rather than looking for ways to hurt rural America."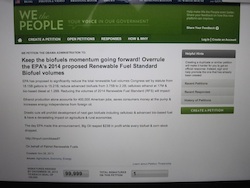 While comments to the EPA are an important part to restoring the RFS they don't require President Obama to review them personally. Therefore, Patriot Renewable Fuels launched an online petition last week that needs 100,000 signatures by the end of December 26, 2013 for the President to review the 2014 RFS proposal. Take the time now to sign by clicking here.
Individuals interested in submitting comments to the EPA should reference Docket ID No. EPA-HQ-OAR-2013-0479.  Comments can be submitted by any of the following methods:
www.regulations.gov: Follow the on-line instructions for submitting comments.
Email: a-and-r-docket@epa.gov
Mail: Air and Radiation Docket and Information Center, Environmental Protection Agency, Mailcode: 2822T, 1200 Pennsylvania Ave., NW., Washington, DC 20460.
Hand Delivery: EPA Docket Center, EPA West Building, Room 3334, 1301 Constitution Ave., NW., Washington, DC 20460. Such deliveries are only accepted during the Docket's normal hours of operation, and special arrangements should be made for deliveries of boxed information.