The United Nations Foundation has launched an Energy Access Practitioner Network's Directory, "Investing for Energy Access: 2013 Directory of Investment and Funding Opportunities." This new directory provides an overview of opportunities to invest in more than 140 companies and organizations delivering a range of decentralized energy solutions in developing countries, as a contribution to the Sustainable Energy for All objective of ensuring universal energy access by 2030.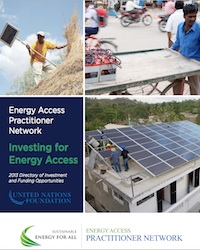 The directory reflects the results of a 2013 survey of Practitioner Network members in an array of developing countries, highlighting their individual and aggregated investment and financing needs, including early-stage equity and project debt as well as concessional financing – totaling some US $250 million – and a range of technical assistance requirements.
The Investment Directory will be used to connect investors and donors with members of the Energy Access Practitioner Network. Respondents were drawn from a wide range of start-up and established commercial companies, social enterprises, and non-profit organizations focusing on delivering micro-grid and off-grid renewable energy solutions, as well as manufacturing and other services. Collectively they have reached more than 16.5 million people at household and community levels with sustainable energy solutions in 2012.
Since the launch of the Energy Access Practitioner Network in 2011, the Network has grown rapidly and now includes more than 1,500 business and organizational members from 191 countries, delivering a wide range of technologies and services. Members have long highlighted the ongoing need for financing that is tailored more closely to the needs of the sector, and this directory represents a first opportunity to catalog these diverse financing requirements.