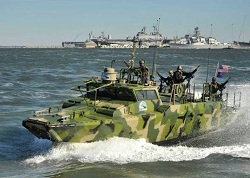 Veterans might be the next tool in the U.S. Navy's quest to find alternative energy. This Office of Naval Research (ONR) news release says the service is highlighting the Energy Systems Technology Evaluation Program, or ESTEP, providing student veterans with internships in Navy organizations using advanced technologies.
"Finding reliable, alternative sources of energy is an essential component of naval strategy moving forward," said Dr. Richard Carlin, director of the Sea Warfare and Weapons Department at ONR. "ESTEP uniquely places student veterans interested in engineering and technology into working internships, where they gain hands-on skills and experiences as they advance energy research for the Navy and Marine Corps."
Examples of such work include evaluation of smart grid and solar energy use at Camp Pendleton; development of cyber-secured energy management systems; enhancing wind-resistant rooftop photovoltaic panels; and more.
The program kicked off last year, and is a partnership between ONR, San Diego State University (SDSU), SPAWAR Systems Center Pacific, the Naval Postgraduate School and the Naval Facilities Engineering and Expeditionary Warfare Center.
Check out the video titled "Warrior Power: ONR, Education and Energy" below that talks about how SDSU's program was a natural fit for the ESTEP partnership, as its Troops to Engineers program is specifically designed to help student veterans find productive internships and future employment.