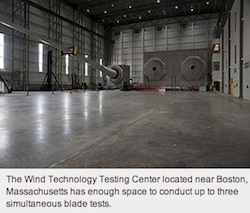 The U.S. Deputy Secretary of Energy Daniel Poneman recently joined with officials from Clemson University to dedicate the nation's largest and one of the world's most advanced wind energy testing facilities in North Charleston, S.C. Led by Clemson University's Restoration Institute, the facility will help test and validate new turbines, particularly for offshore wind – helping to speed deployment of next generation energy technology, reduce costs for manufacturers and boost global competitiveness for American companies.
"Developing America's vast renewable energy resources is an important part of the Energy Department's all-of-the-above strategy to pave the way to a cleaner, more sustainable energy future," said Deputy Secretary Poneman. "The Clemson testing facility represents a critical investment to ensure America leads in this fast-growing global industry – helping to make sure the best, most efficient wind energy technologies are developed and manufactured in the United States."
Congressman Jim Clyburn said, "This facility is about job creation, sustainable growth and energy independence, while building the infrastructure to power America's economic growth and prosperity for years to come. I applaud Clemson University for their leadership in bringing this cutting edge research to South Carolina and North Charleston. Wind energy represented over 40% of new electricity production in the United States in 2012, but there is still tremendous amount of untapped potential for this technology. I look forward to this industry creating jobs while providing clean renewable energy."
Located at a former Navy warehouse with easy access to rail and water transport, the Clemson facility will test machinery that converts both onshore and offshore wind to electricity and allow engineers to simulate 20 years' worth of wear and tear on drivetrains in a few months. The facility's proximity to the coast also makes it ideal for U.S. and international companies to testing larger offshore wind turbines.
Supported by a $47 million Energy Department investment as well as about $60 million in outside funding, the facility is equipped with two testing bays – for up to 7.5-megawatt  and 15-megawatt drivetrains, respectively. The facility will also feature a grid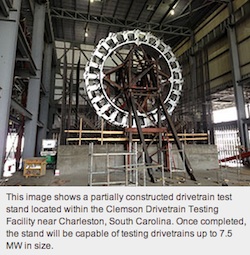 simulator that mimics real-world conditions and can help private industry and public researchers better study interactions between wind energy technologies and the U.S. power grid.
Over the past four years, the Energy Department has made significant investments in our nation's wind turbine testing capabilities, including the Scaled Wind Farm Technology facility in Lubbock, Texas, to help optimize whole wind farms' performance and power production as well as the United States' first commercial large-blade test facility in Boston Harbor.
These efforts build off the Department's National Wind Technology Center in Boulder, Colo., which has helped drive new wind technology development since 1993. This past week, the Department dedicated a new five-megawatt dynamometer at the center to further strengthen its capabilities and conduct research on stronger, more durable wind drivetrains for land-based wind farms. Connected to a grid simulator as well as operating multi-megawatt turbines at the center, the new installation will also help study grid interactions and test energy storage devices simultaneously.