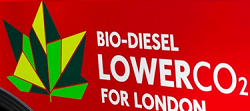 Some buses in London will soon be running on biodiesel made from waste cooking grease. This story from the East London Advertiser says more than 100 buses are testing a B20 blend of the green fuel.
Matthew Pencharz, Boris Johnson's senior advisor for Environment and Energy, said: "This is another example of the mayor's commitment to cutting carbon emissions and making our city's transport even cleaner and greener. The mayor has called for investment in a large scale biodiesel refinery in the capital and with London operating one of the biggest bus fleets in the world, this pilot is an important step in demonstrating to the UK's biodiesel industry that there is a huge potential demand for it here."
Mark Threapleton, managing director for Stagecoach London, added: "Stagecoach was the first bus company to use 100 per cent biofuel back in 2007 and we're delighted to be at the cutting edge in the use of this cleaner, greener biofuel in London."
The buses will be running to some famous sites in the city, including Trafalgar Square.
An approximately 12,000-gallon storage tank has been put on the bus depot site so the biodiesel can be mixed right there.