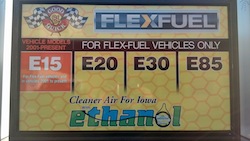 Good & Quick located in Nevada, Iowa has begun selling E15 to 2001 and newer vehicles, making it the 11th registered E15 station in the state. In addition to E15, Good & Quick also offers E20, E30 and E85 for flex-fuel vehicle owners and biodiesel blends.
"Nevada-area residents will now be able to benefit from this low-cost, clean and green fuel option," said Good & Quick Owner Charlie Good. "Offering E15 as a registered fuel gives me a niche in the market. Making E15 and other higher blends available means my station has more to offer than any other station in Story County. I chose to sell E15 because it gives my customers more fuel choices and it supports our local economy and nearby ethanol production."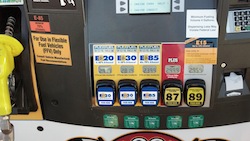 Good & Quick is located at 519 Lincoln Highway in Nevada. E15, a blend of gasoline and 15 percent ethanol, can be used by all 2001 and newer passenger vehicles, which account for about 85 percent of fuel use in the United States. In order to offer E15, a retailer must register with the EPA. The Iowa Renewable Fuels Association assists retailers in the registration process to ensure they comply with all applicable federal and state E15 regulations.
"IRFA congratulates Good & Quick for making Iowa the nation's leader in E15 retail stations," said IRFA Managing Director Lucy Norton. "With both corn and cellulosic ethanol production projects in Nevada, it's only fitting that the town now has a registered E15 station. Good & Quick now offers a wide variety of ethanol blended fuels and biodiesel, giving Nevada-area motorists the cleanest, lowest-cost fuel choices available."