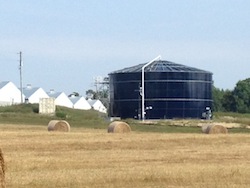 A ribbon-cutting ceremony was recently held by Revolution Energy Solutions (RES), a company focused on waste-to-electricity projects, for its inaugural North Carolina anaerobic digestion project, coined NC-1. The project is currently one of the largest and most progressive farm-based biogas projects in the state.
The event included representatives from RES along with farm hosts Murphy Family Ventures, as well as Lloyd Yates, Duke Energy executive vice president of Regulated Utilities. The nexus of energy, agriculture and the environment, RES says NC-1 marks the beginning of a new era in renewable energy production, rural economic development, community-wide environmental benefits and swine industry waste enhancements for North Carolina.
As the second largest pork producing state in the country, North Carolina generates 40 million gallons of swine manure daily. North Carolina has created a Renewable Energy Portfolio Standard (REPS) that establishes the amount of energy demand in the state that must come from renewable sources. The REPS also includes a specific set-aside for swine waste-to-energy projects, which serves as a catalyst for deploying this type of technology and capital in North Carolina, and Duke University estimates that the REPS requirement could be met with as few as 127 state farms.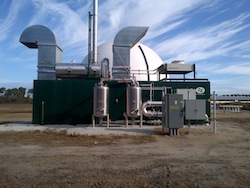 "Projects such as NC-1 are a gateway to rural economic development and renewable energy production. Not only are we generating significant electricity and employment opportunities, we are greatly enhancing the farm's existing waste management system to improve processing and create previously unachievable environmental benefits," said Alan Tank, co-founder and CEO of Revolution Energy Solutions. "North Carolina already has the requisite quality and quantity of feedstock to sustain these types of projects. We're confident that additional states will embrace this example and NC-1 will be the first of many such waste-to-energy projects in the United States."
RES says it brings both the patented, proprietary technology and proven project success to transform these swine waste streams into a meaningful source of energy. By processing waste streams generated by livestock on farms, as well as other organic feedstock materials such as food waste, fats, greases and oils and municipal waste streams, RES projects can create renewable energy, improve the environment and drive local economic development. These projects generate measurable air and water quality benefits, including greenhouse gas emission reductions, pathogen destruction, hydrogen sulfide emission reductions, and enhanced nutrient management and waste stream utilization.