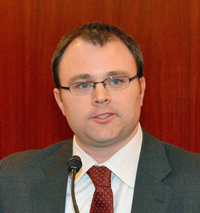 Even before the Environmental Protection Agency officially released its proposed 2014 Renewable Volume Obligations (RVOs) under the Renewable Fuel Standard (RFS), questions arose about whether the EPA is overstepping its authority.
University of Illinois Clinical Assistant Professor of Law and Policy Jonathan Coppess, former counsel to the Senate Ag Committee and former administrator for USDA, says there is a legal argument to be made that EPA is stretching the definition of inadequate domestic supply in proposing a waiver based on the blend wall. "The entire intent of the statute was to increase production," Coppess said during a media call today. "How does this unique or novel way of interpreting "domestic supply" fit with the intent Congress has for the overall statute?"

Coppess and Renewable Fuels Association President Bob Dinneen both stressed that no lawsuit has been filed against EPA's proposal and they hope that will be unnecessary. "This is a proposal so there is no legal issue to litigate on," said Dinneen. "We are hopeful that in the comment period, the agency … ultimately modifies the proposal to not include the blend wall in the waiver process." Dinneen says they held the media call with Coppess to simply "tee up what the issues are" regarding the proposal.
Listen to or download the call with comments from Dinneen and Coppess here: RFA Call on EPA Authority for RFS Waiver
Also, check out our recent DF Cast featuring an interview with Coppess on the issue.