Ethanol was well represented at the National Association of Farm Broadcasting annual meeting last week in Kansas City to talk with reporters about issues facing the industry.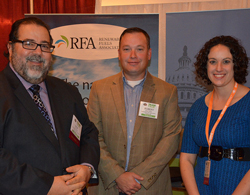 Bob Dinneen, Robert White and Dawn Moore with the Renewable Fuels Association (RFA) did a number of interviews with farm broadcasters about important topics, like the growth in the number of stations offering 15 percent ethanol blended fuel (E15).
Robert said they have some good news to report.
"In the matter of just a couple of weeks we'll have E15 in 11 states, roughly 50 stations, and lots in the hopper," adding there's high interest among gas station operators, especially the small businesses, in expanding the amount of E15 to be sold. "E15 is averaging over 20 percent [in volume at stations], and one station is averaging 38 percent in E15. And you couldn't have convinced me of that two years ago that was going to happen that quickly."
Robert also dismisses Big Oil's arguments that E15 is causing massive amounts of misfueling, stranding cars by the side of the road.
"After 18 months of E15 being in the marketplace, we haven't had one incident of misfueling, we haven't had one check-engine light come on, [not one] issue with a vehicle, lawnmower, etc." Interview with Robert White, RFA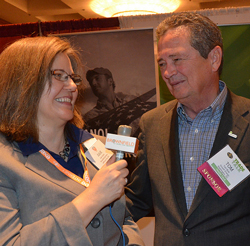 One of many interviews Growth Energy CEO Tom Buis did at NAFB was with Julie Harker of Brownfield Ag News.
Speaking before the EPA released its proposal to lower Renewable Volume Obligations (RVOs), Tom said that would be a huge mistake.
"It's a mistake not just for rural America and the ethanol industry and America's farmers, but for our Nation," pointing out how beholden we have been to Middle East oil over the past 40 years, including lost fortunes guarding oil tankers and lost American lives in war. "Moving backwards would be for the wrong reasons at the wrong time."
Tom said the oil companies' attacks are understandable; ethanol is cutting into their monopoly, adding preserving that 10 percent blend wall is key to the Big Oil's strategy.
"They've got 90 percent of the market. They don't want any less. Well that's not good for America, it's not good for energy security or national security," concluding that consumers are saving about $10 billion a year at the pump. "Let the consumer make the choice at the pump." Brownfield Interview with Tom Buis, Growth Energy