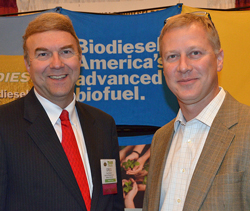 Biodiesel producers had plenty to talk about … and plenty of ears to listen … during the recent National Association of Farm Broadcasters (NAFB) meeting in Kansas City. Makes sense, when you consider how connected the farming and biodiesel industries have been over the years. We caught up with two folks from the National Biodiesel Board at the group's booth at NAFB: NBB Economist Alan Weber and NBB board member Greg Anderson.
Speaking before the EPA had officially released its lowered Renewable Volume Obligation (RVO) numbers, Alan said the proposed numbers of 1.28 billion gallons for next year, when the industry is approaching 1.7 billion gallons this year, would significantly hurt the 60,000-job biodiesel industry.
"That movement backwards would actually be about 8,000 jobs in the U.S. that we would lose and all that ripple effect throughout the economy," he said, pointing out that biodiesel is the first commercially available advanced biofuel, getting the job done now.
"There's a lot of unique alternative fuels out there. We can talk about electricity and hybrid electrics, but when we start thinking about how we move products in the United States, it's going to be in diesel-powered, class-A over-the-road trucks, powered by a liquid biofuel. And that's where biodiesel fits in."
Interview with Alan Weber, NBB economist
Some of the knocks against biodiesel have come from falsehoods spread about how it is hurting livestock producers. Greg, who is a soybean farmer and livestock producer from Nebraska, said just the opposite is true as the soybean meal produced during the crush to get the oil actually enhances the livestock market.
"It works well together. It adds about $12 for every beef carcass, about $1.25 for pork and a few cents for each chicken. It all adds up. We see the value in biodiesel in lowering soybean meal prices, conservatively $25 a ton less. If biodiesel wasn't there, it'd be more expensive to purchase and higher input costs for those folks to feed," Greg said.
He also pointed out that while the soybean oil makes up about 19 percent of the bean, right now, because of biodiesel, it's represents 40 percent of the bean's value, producing food and fuel.
"We're not only feeding America, but we're fueling America."
Interview with Greg Anderson, NBB board member