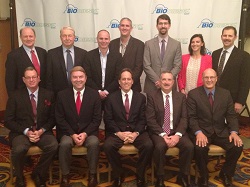 New leadership is in charge of the National Biodiesel Board (NBB). During the group's membership meeting yesterday in Washington DC, members voted to fill eight positions on the 15-person board, and new officers were elected.
"The biodiesel industry is on pace for record production in 2013 but the challenges facing this industry are significant," said new NBB Chairman Steven J. Levy (seated in the center of the picture). "I am optimistic about our future as we face those challenges with a strong and diverse trade association membership united for the good of the industry, consumers, and the general public."
Dozens of biodiesel stakeholders from across the country met with leaders on Capitol Hill on the Renewable Fuel Standard (RFS) and to voice strong disappointment with the Obama Administration's recent proposal for next year's renewable fuels volumes.
Officers elected to lead the board are: Chairman, Steven J. Levy; Vice Chairman, Ron Marr; Treasurer, Mike Cunningham; and Secretary, Greg Anderson.
New elected governing board members include: Todd Ellis, Imperium Renewables; Kent Engelbrecht, ADM; Gary Haer, Renewable Energy Group; Ed Hegland, Minnesota Soybean Research & Promotion Council; Ron Marr, Minnesota Soybean Processors; Bob Metz, South Dakota Soybean Research & Promotion Council; Robert Stobaugh, Arkansas Soybean Promotion Board; and Ed Ulch, Iowa Soybean Association
Those continuing to serve on the governing board include: Greg Anderson, Nebraska Soybean Board; Jennifer Case, New Leaf Biofuel, LLC; Mike Cunningham, American Soybean Association; Brandon Foley, Sanimax Energy; Steven J. Levy, Sprague Operating Resources LLC; Timothy Keaveney, HERO BX; and John Wright, Owensboro Grain Company.